What trends do we see for business websites in 2023 and into 2024?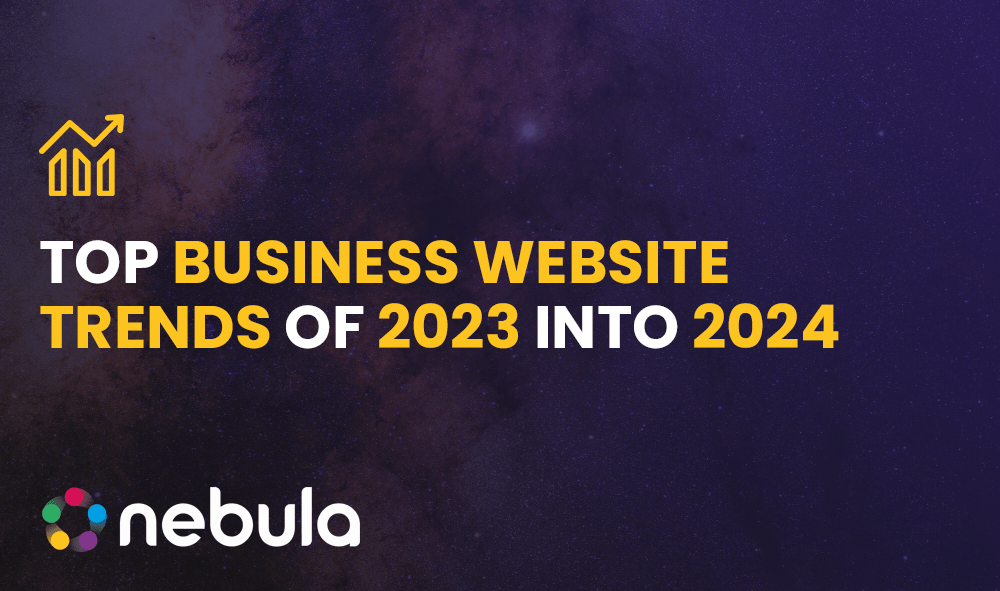 Your business website is like the storefront to a shop. You want your potential customers' first impression of your business to be memorable, eye-catching and easy to navigate. You also want the design of your website to showcase what you can offer and what makes your brand unique.
It can be a tricky thing to achieve, but one way to do this is via forward-thinking web design that nails your brand messaging and feels fresh and innovative.
With this in mind, here are some of the top business website trends of 2023 (and into 2024) that you should consider when planning your website design.
Dynamic movement and interactive design
Gone are the days where a webpage had to be a static object that didn't move except from when the user scrolled.
Many businesses are now making use of dynamic movement and interactive design elements on their websites, whether through animated imagery, flashing elements, moving typography or design elements that move as the user explores.
Interactive design can keep your visitors on your page for longer – meaning less bounce rate and more of a likelihood of engaging with your product or service.
Multimedia focus
Websites that focus on just one type of content can feel stale and boring, as many users want a multimedia experience when browsing.
According to Social Media Today, almost 70% of people say they prefer watching short videos to interacting with other forms of content. Added to that, more than 80% of marketers feel video keeps people on web pages longer.
So, if your website is very text heavy, it might be time to take a step back and figure out how you can incorporate other kinds of content – especially when it comes to video content.
Minimalism into maximalism
Sometimes less is more, but it's not necessarily the best choice in web design in the 2020s.
While a clean, calm aesthetic has been popular in the past, a maximalist design – or one that takes a bold, busy approach – is becoming a more common design choice for businesses wanting to stand out from the competition and express their brand's personality.
Maximalist design makes full use of all the space on the page, isn't afraid to embrace a bright and clashing colour palette and can make use of quirky, memorable design choices that will force users to pay attention.
Retro resurrection and nostalgia
Don't worry, this doesn't mean you have to create a chaotic 90s-style website that's tricky to navigate. Retro web design makes use of fonts and styles from eras past, while still keeping it fresh and, vitally, usable.
Importantly, you don't need to stick to post-internet design trends to make use of this trend – whether you want to incorporate the bold pop art of the 60s, groovy typography of the 70s or neon colours of the 80s, taking inspiration from the past could be the future when it comes to designing your business website.
Mobile-first, not just mobile-friendly
It's no secret that a website should also look good on mobile, but many businesses focus on designing their site for desktop browsing first and add in the mobile design later. This can be a mistake, especially as your potential customers are significantly likely to come across your business for the first time on their mobile phone.
According to 2019 research by the Office for National Statistics, the most common type of device used to access the Internet on the go was a mobile phone or smartphone at 79%.
By making sure your business website looks good on mobile in the first instance, you're promoting a more user-friendly browsing experience and not leaving the small screen as an afterthought.
Prioritise accessibility
It's important to make sure your site is as accessible as possible to the wide range of people who access the internet – and more and more businesses are taking note of this in their design.
According to the Web Accessibility Initiative, this includes things such as:
Making your navigation clear and consistent
Making sure interactive elements are easily identifiable
Providing sufficient contrast between text and background, so users can read text easily
Using subheadings and sections to make information easy to understand
Not only will this make your website accessible to humans, but also to search engines too, meaning you can also experience a boost to SEO.
Nebula Design – Your one-stop shop for a new SME website that stands out from the crowd
At Nebula Design, we can build you a sleek and effective website that makes use of the latest trends in business web design. To find out more, head over to our web design packages page or book a discovery call.